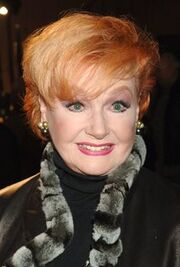 Ann Robinson is an American actress
War of the Worlds appearances
Edit
Date of Birth 25 May 1929, Hollywood, California, USA
Growing up in the proverbial shadow of the studios, California native Ann Robinson acted in grade-school plays and later fibbed her way into the movie business as a stunt woman on movies such as Black Midnight (1949), The Story of Molly X (1949), and Frenchie (1950). She was part of Paramount's golden circle of new stars in the early 1950s but had only one leading role at the studio, in producer George Pal's The War of the Worlds (1953).
In 1957, she ran off to Mexico to marry a famous matador, Jaime Bravo ("and blew my career right out of the water"). Their son Jaime Jr. became a director with ABC Sports and has won several Emmy awards. Since 1987, Robinson has been married to real estate broker Joseph Valdez. She is a fixture at sci-fi conventions and autograph shows.
Joseph Valdez (1987 - present) Jaime Bravo (1957 - 1967) (divorced) (2 children)
Trade Mark
Edit
Frequently appears in sci-fi roles with a character by the name of Sylvia van Buren; a nod to her leading role in The War of the Worlds (1953)
Started off as a stunt rider in films, doubling for Shelley Winters in Frenchie (1950).
Married at one time to matador Jaime Bravo, she is fluent in Spanish. She had two sons from this marriage. Jaime A. Bravo is a director for ABC Sports and ESPN. Estefan Bravo is an actor who appeared as Axl Rose in Andy Prieboy's White Trash Wins Lotto (2000).
Her father, Parker, worked for the Bank of Hollywood.
Played a character with the name Sylvia Van Buren in both the original The War of the Worlds (1953) and The Naked Monster (2005).
Interviewed about her sci-fi movie and TV credits in Tom Weaver's book "Attack of the Monster Movie Makers" (McFarland & Co., 1994).
Interviewed about her friendship with Western star Johnny Carpenter in the book "Wild Wild Westerners" by Tom Weaver (BearManor, 2012).