Jurassic World: Dominion Dominates Fandom Wikis - The Loop
Play Sound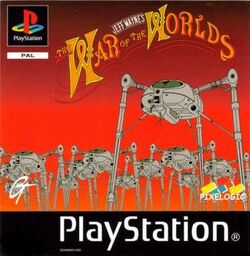 Jeff Wayne's The War of the Worlds is a third-person shooter and vehicular combat game created for the Playstation One. Like the 1998 game, It is based on Jeff Wayne's Musical Version of The War of the Worlds, which is itself based on the H.G. Wells novel, The War of the Worlds. 
The game reuses assets and the story from the 1998 game, including Jeff Wayne's alternate Martian machines (such as the Bombarding Machine and the Tempest) and the modified human vehicles, as well as including the HMS Thunder Child for one mission. However, unlike in the 1998 game - which allowed you to play both a Human Campaign or a Martian Campaign with different endings depending on the campaign you chose - this game is strictly based around the human campaign and humanity's attempts to fight off the Martians.
Information
[
]
(To be added)
Vehicles
[
]
Armoured Car V1
Armoured Car V2
Armoured Lorry
Fuel Tanker
Ironclad
Submarine
Machine Gun Motorbike
Special Force bike: "These guys mean business!"
Mobile Anti Aircraft Platform
Mobile Artillery Vehicle
Rocket Launcher Vehicle
Mobile Electric Vehicle
Observation Balloon
Self Propelled Gun: Heavy armor and a large calibre weapon ---- Very effective
Turrets
[
]
Heavy Cannon
Medium Cannon
Light Cannon
Machine Gun Turret
Rocket Launcher
Enemies
[
]
Constrictors
Scanning Machines
Bombarding Machines
Drones
Electric Machines
Scout Machines
Fighting Machines
Tempests
Flying Machines
Handing Machines
Xeno-Telepaths
Turrets
[
]
wip
Building
[
]
wip
Videos
[
]
Level 1: Training The Coming of Martians
[
]
Level 2: Landing on the Thames
[
]
Level 3: Parliament Is Attacked
[
]
Level 4: Recapture Dover
[
]
Level 5: Defend Oxford Against Invasion
[
]
Level 6: Oxford Is Taken
[
]
Level 7: Thunderchild
[
]
Level 8: Stronghold On Nottingham
[
]
Level 9: Evacuate York [Martian Ambush]
[
]
Level 10: Liberate York
[
]
Level 11: Flying Machine
[
]
Level 12: Submersible Strike
[
]
Level 13: Ground Attack (Glasgow Docks)
[
]
Level 14: Victory Is At Hand (Martian Fortress)
[
]
Bugs and Glitches
[
]
Questions
[
]
Trivia
[
]
Self-Propelled Gun is based of the Leman Russ Tank from 40K