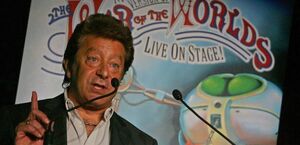 Jeffery "Jeff" Wayne is the composer most well-known for his musical adaptation of H.G. Wells' novella The War of the Worlds.
Wayne was born on the 1st July, 1943 in Forest Hills Queens. His father, actor Jerry Wayne introduced Jeff to Wells' novella and encouraged him to write music that would fit the story. It was released in 1978 as "Jeff Wayne's Musical Version of The War of the Worlds" and went on to be a huge international success.
Wayne has won two Ivor Novello Awards and The Best Recording In Science Fiction and Fanatsy awards for his work on the album which contiunes to be a huge success among a new generation of fans today.