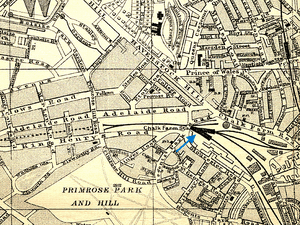 Primrose Hill, within London, was the last and largest encampment of the Martian Invasion.
This site was actually the landing site of the seventh projectile launched from Mars. No mention of the landings sites of projectiles eight through ten were made in the book, but given that this site was definitely described as the final encampment, it would be logical to assume that those sites were close by.
The Narrator describes seeing the dead Martians within this encampment early in the morning of Day Twenty-One of the invasion.